Youth Classes & Workshops
"Stage Combat has an important, creative and fun role to play in the Performing Arts. It is a form of storytelling, whereby the script is physical rather than textual. It equips performers with an understanding of how their own bodies move, and how to use them safely and dramatically both on stage and screen. The techniques learned in rehearsal allow the performer to develop an ability to take control of and make exciting choices with their physicality, whilst promoting a sense of trust, responsibility and care towards themselves and their partners."
Kiel is an experienced Stage Combat Instructor with the BADC and Drama Workshop Leader, having worked with children and young people aged 6 - 18 throughout the UK since 2010. During this time he has created and led Drama based workshops for companies such as Stagecoach, the Pauline Quirke Academy, Totally Lit and Theatretrain, throughout the UK. These workshops have included classes in stage combat, script, character, devised performance, improvisation, physical theatre. storytelling, Shakespeare and Commedia Dell'Arte.
To book a workshop, find out about prices or discuss bespoke workshops, please get in touch by filling out a contact form. For more information on the workshops I provide, scroll down.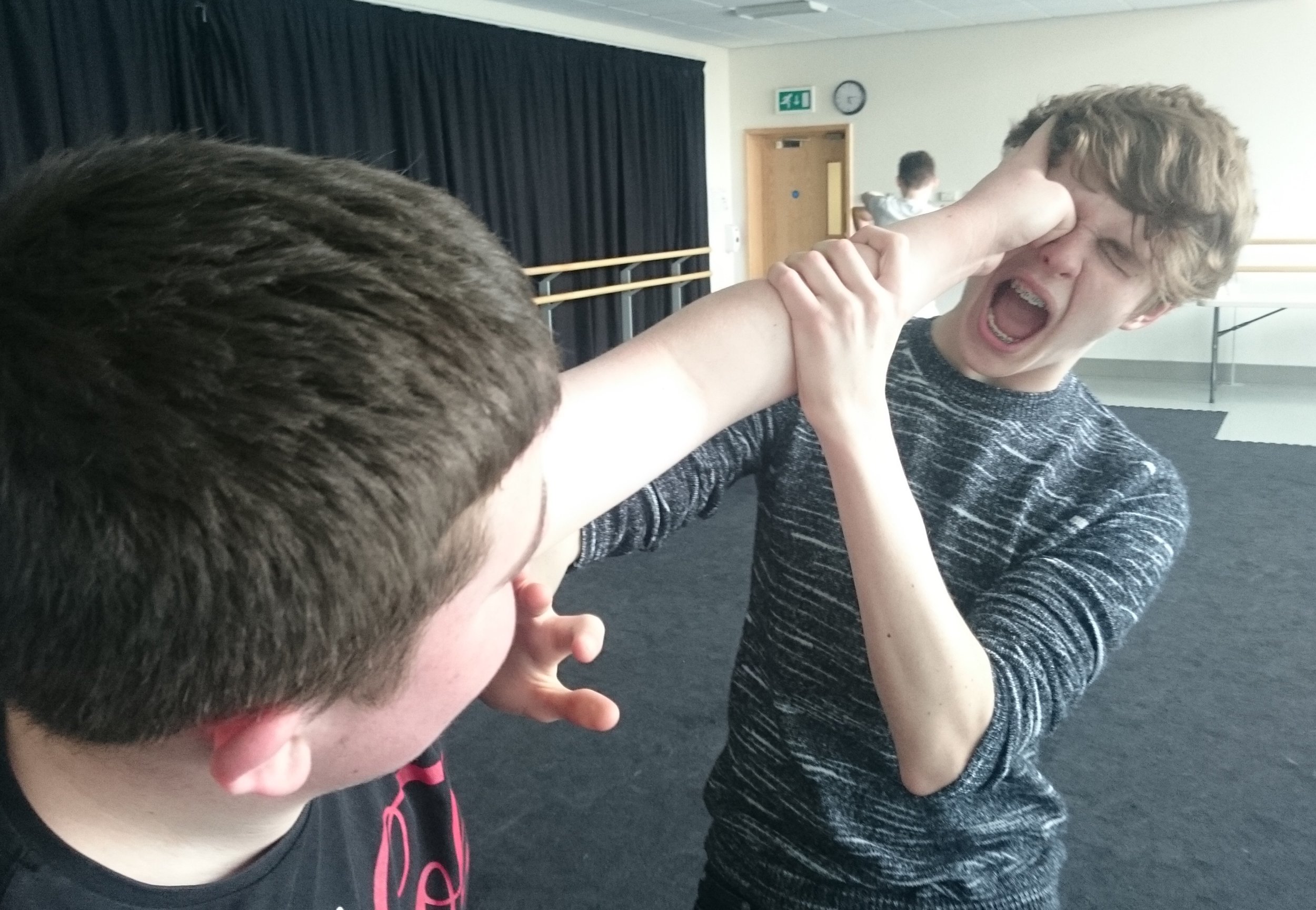 All drama is conflict, situations in which ordinary people find themselves in extraordinary circumstances, and when words no longer suffice they find themselves drawn to action.

Unarmed Stage Combat workshops focus on teaching students the basic but often used techniques of hand-to-hand combat utilised on stage and screen. Participants will learn to slap, punch, kick, grapple with and strangle one another. Students will progress from learning individual techniques to performing phrases of choreography that will challenge them to move the fight throughout the space, whilst making each move work for the audience and maintaining a spatial awareness as well as an awareness of their partner's safety.

These workshops can be tailored for students from KS1 through to undergraduate level.

For students who have taken part in an introductory stage combat session as described above, workshops can be tailored to suit any needs and work in any thematic content you are currently exploring in your classes.* Fights can also be choreographed for any plays that your are rehearsing.

Kiel has delivered unarmed combat workshops to various stagecoach, PQA, Theatretrain, Totally Lit and Stagestruck groups, as well as De Montfort University Undergraduate Drama Students.

* If your school/college/group has access to their own cameras, unarmed combat workshops can be tailored to explore the specificity of screen combat technique. Screen Combat workshops are suitable for students aged 14+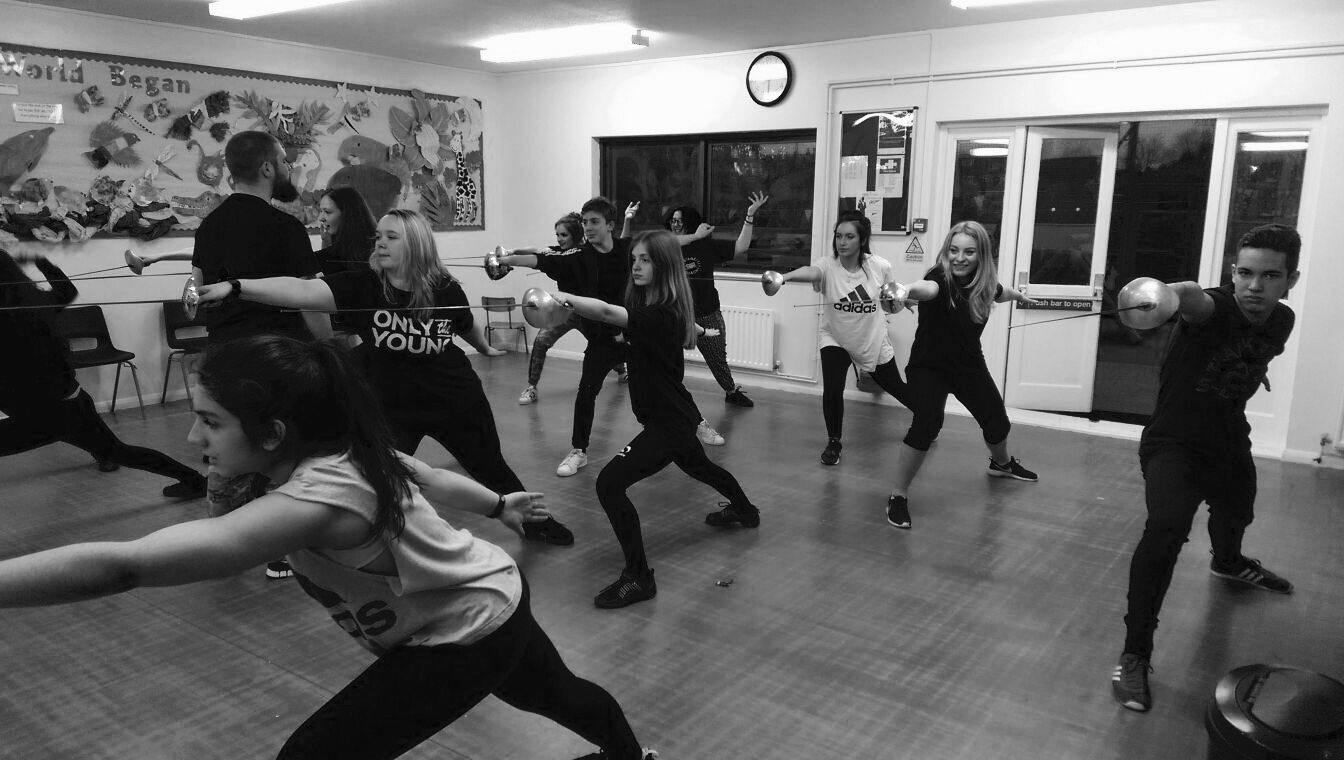 Want to fight like a Medieval Knight, or swash your buckle like a Pirate?

Want to know how to move between Medieval or Renaissance sword guards and stances?

Want to learn the difference between the real thing and the stage craft that allows the actor to perform safely and with intention?Students will learn the basics of either one- or two-handed sword fighting, working through the important safety and dramatic techniques required to handle the blade, including how to draw the sword. After familiarising themselves with the initial footwork, stance and sword-handling techniques for either Medieval or Renaissance duelling, students will learn how to cut and thrust, parry attacks and maintain a safe but dramatic fighting distance, working through choreography, building up to performing a short sequence at the end of the workshop.*


* In order to deliver a weapon workshop, schools must be able to provide suitable space for each pair of students to move freely and work unhindered by other students in the room.
Foam swords are provided for students aged 6-11.
Wooden Bokken or Metal practice blades are provided for students 11+
Fight Direction: Suiting the Action to the Word
Stage Combat isn't just about swinging swords and slogging it out like a cowboy in a saloon. Stage Combat encompasses anything that falls into the action/movement category ... in fact most of my work consists of teaching actors how to fall over safely and convincingly, or how to play the pain of a hit or fall, or just how to shift through the gears as the script escalates from minor conflict to full out fisticuffs. Sometimes it's even about how to look like you know how to use the sword girded to your belt (even if in the script you'll never draw it).

This workshop focusses on creating the fight scene the right way round; starting with a piece of text and creating the choreography with the given circumstances of the script and character choices in mind. This workshop is ideal for older or more mature students (11+, although ideally and where possible 14+). Students can engage in short pieces of script chosen by myself, or if they are currently working on a piece that has fight/conflict within it, even better.